Vegetarian Guide Samples
Springtime In Paris From A Vegan Viewpoint
Paris has 20 veggie restaurants. Alex Bourke recalls his favourites.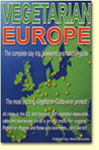 Samples From
Vegetarian Europe
Date: May 22, 2003
Author: Alex Bourke
"'Ave you anything to declare?" asked the French customs officer in my dream.
"Only my veganism."
"Then Monsieur I advise you to turn back."
When I first moved to Paris I thought I'd arrived in Vegan Hell. Surely, I figured, les Miserables must be a play about vegans in Paris starving to death. But after two years in the French capital, I discovered to my delight that I could not have been more wrong. Paris, as well as being the most romantic and exciting city in Europe, is full of fantastic places for vegans to eat, mostly hidden away in the cobbled sidestreets.
Unlike London, where the attractions are mostly indoors, Paris is an outdoor city. Instead of going to pubs, people hang out in cafes, with tables spilling onto every pavement. Here you can linger sipping beer, wine, real coffee or herbal tea (une infusion) and watch the world walking by. The world being chic French businessmen and women, Swedish language students, dogs walking their retired owners, shoppers laden with designer clothes, designer-stubbled artists and brightly costumed tourists and immigrants from every land.
American veggies may find restaurant food a bit bland compared to what you're used to - the French haven't reached the standards of the best U.S. and British places - but they've sure come a long way and deserve to be encouraged. If you like macrobiotic food then you'll be in heaven.
Paris is divided neatly in two by the river Seine, with Notre Dame Cathedral and a big flower market on the islands in the middle. On the Left (South) Bank are the student area of St Michel and the Eiffel Tower. A lovely walk on a Spring day starts at the fountain in Place St Michel, where you'll see young folk waiting for their friends. You can grab a basic falafel in the otherwise very meaty Greek area in rue de la Huchette, or get a really tasty one at the brand new vegetarian falafel bar Maoz in rue Xavier Privas, just off rue de la Huchette. Head off west from Place St Michel down quaint old rue St André des Arts, pausing now and then to browse in the many small shops. After an hour and a few hundred metres, turn left into rue de Seine, where there is a street market filled with fruit and the scent of flowers and a Monoprix supermarket.
Monoprix supermarkets, all over Paris, are wonderful for foraging vegans. They sell many flavours of delicious Sojasun soya yoghurts, and heaps of delicious and inexpensive dark chocolate that is even made with soya lecithin. The hazelnut chocolate is absolutely incredible and if you weren't a vegan you'd probably kill for some. You'll want to take a few bars back home, perhaps a crate.
Continuing down rue de Seine across the café and cinema filled boulevard St Germain, we stop at a café for herb tea and to relax and write a postcard. Pay on the way out and wend your way to the big park called Jardin du Luxembourg to watch tennis, chess and card players and put your feet up in the sun by the boating pond.
My favourite secluded vegetarian restaurant on the Left Bank is le Grenier de Notre Dame, which serves macrobiotic lunch and dinner every day. From Place St Michel, walk east along the river past the English language bookshop Shakespeare and Co., then a small park, to 18 rue de la Bucherie. The menu is enormous and in English, with stacks of yummy vegan delicacies. Nearby you can pick up a big bags of nuts at the Chinese shops in Place Maubert.
When I had weekend visitors, on Sunday morning we headed for the organic market in boulevard Raspail, where they sell some excellent organic vegan wines. After the obligatory stroll around the Eiffel Tower and a look at the river, where you can take a boat trip, continue north by Metro (subway) and get off at Charles de Gaulle Étoile for the Arc de Triomphe. Whilst in the Metro corridors you can pick up some vegan Easter avocados from one of the many fruit sellers. A penknife and teaspoon are handy, or use the avocados later as butter in a baguette with salad. On every Metro platform there are also North Africans selling snack-sized packets of nuts.
Having left the Arc de Triomphe roundabout by the subway, or been squashed flat running the gauntlet of several lanes of homicidal Renaults who did not remove aggression before driving, there's the adventure of ambling along the Avenue des Champs-Elysées. We ogle the jewellery and glare at the spoiled bitches in the fur-filled fashion stores. This street has lean pickings for vegans so we settle in at a table on the pavement for some juice, coffee or a beer and write postcards.
After further swigging from the half litre bottle of mineral water in your bag, you may be surprised at the toilet in some of the classy cafes. If squatting over a hole in the ground is just not you, it's time for the vegan game of dodging security guards in a burger bar. Wander in, gaze pointedly at the menu, glance at the long queue, then pop into the clean and comfy small room. This works best if a friend stands in line 'waiting' for you. When you emerge, check the menu once more, sigh when you figure out there's nothing vegan, and hit the exit.
If you're still on the Champs-Elysées in the evening, head for one of the many cinemas advertising films in the English version originale (V.O.). The weekly listings magazine Pariscope has an English Time Out section telling you what's on.
East of the Champs-Elysées, the area around Opéra is full of giant department stores such as Printemps, which covers three blocks. Unfortunately Country Life vegan restaurant in rue Daunou has closed for the moment so you'll need to keep going east for a good meal. From Opéra it's a short walk to the Louvre and the giant underground shopping complex at les Halles.
If you're weary of being a grown up, take the RER train from Les Halles (1st) to EuroDisney. There is a baked potato stand in front of the Rocky Mountain Railroad. However if you'd rather give this a miss then there is still one extra special vegan treat for you in Paris.
Stroll east from les Halles, past the red light area of rue St Denis towards the Jewish quartier around rue des Rosiers. Here you'll find a mini-vegan snacker's paradise, with luscious special falafels like no falafel you've tasted before, piled high with salads, hummous and fried aubergine. Most of the bread and pastries are 'parve', containing no milk. Yes folks we are talking vegan chocolate croissants and exceedingly more-ish vegan cakes. Just ask if they're free of eggs (C'est sans oeufs?) and tuck in.
We're very close to the most romantic vegetarian restaurant in Paris, Piccolo Teatro. It's tucked away in rue des Ecouffes, a bagel's throw from the Jewish section. Apart from the cheesey dishes, there is some delicious vegan macrobiotic food. It's peaceful and warm, with candles and the most charming staff, and you'll see couples gazing lovingly into each other's veggie eyes. Possibly the most delightful, cosy, vegetarian restaurant in Europe, make sure you reserve for an evening date.
I almost forgot, high up over the north-east of Paris is the church of the Sacré-Coeur, from where the view is as good as from the Eiffel Tower but without the vertigo. Nestling nearby is the tiny vegetarian restaurant Au Grain de Folie.
Paris is a very affordable and attractive weekend for both lovers and gastronomic explorers, a treat that no vegan or veggie should miss.
For more on Vegetarian/Vegan Paris
The 288 page Vegetarian Europe features 20 pages on Paris with twenty fabulous vegetarian restaurants, cafés and take-aways, a guide to vegan shopping in France, and stacks of food vocabulary for menu and label decoding.

Vegetarian Europe is available from www.vegetarianguides.co.uk priced £9.99 / US$16.95.

If you're holidaying in London, why not pop over to Paris for a few days? You can reach the heart of Paris in three hours on the very comfortable Eurostar train from Waterloo station. Returns start at £69 if you book two weeks ahead and your stay includes a Saturday night.

Eurolines coaches from London Victoria station are ridiculously cheap though take eight hours. I love the ferry ride which gives a great view of the White Cliffs of Dover.

Flights arrive at Charles de Gaulle airport north of Paris or Orly to the south, then take the RER line to the centre of town. Beauvais airport in Normandy is a coach ride away.
For the rest of France, Vegetarian France includes 150 places to dine out and sleep over with vegetarian food.