Vegetarian Guide Samples
Czech Your Veggies in Prague!
Alex Bourke eats his way around the Czech capital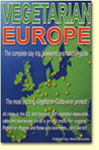 Samples From
Vegetarian Europe
Date: May 22, 2003
Author: Alex Bourke
When I started researching Vegetarian Europe two years ago, I asked American travel agents what were their top destinations and used these as the basis of the book. So far in this column I've tried to whet your appetite for a European tour with the essentials like London, Dublin, Florence and Paris. This month is our first of two forays into the old communist bloc. Next issue we'll head to Poland, but for those of you looking to PARTY then scenic Prague, capital of the Czech Republic, is the hot, hip home of countless bars and discos, incredibly inexpensive, and it even has a central vegan restaurant.
Dominated by the hilltop castle, Prague offers delightful sightseeing with quaint old squares, warm sunshine and the slinkiest local accents in Europe. With plenty of cheap hostels and bars, it's every inch a party town and magnet for backpackers and thousands of resident Yappies (Young Americans in Prague) enjoying a bargain gap year. Vegans beware, in the Czech Republic the four food groups are sausages, cheese, ice-cream and beer. Thus my soft voiced Slovak companion and I appreciated all the more Prague's well stocked veggie oases.
Top of the list of eateries has to be Country Life vegetarian restaurant right in the middle of town, part of the worldwide vegan chain run by Seventh Day Adventists. They sell a wide variety of tasty and fresh raw and cooked food to serve yourself with from a buffet, or stock up in the shop for a picnic. As well as yummy wholefood dishes and soups, they have vegan desserts, and it's all very inexpensive and alcohol and smoke free. They also have a shop where you can stock up on a limited but gorgeous range of vegan goodies for picnics.
That takes care of a lovely meal. Now where's that party dudes? As well as regular discos and bars listed in books like Let's Go Europe or Time Out Prague, don't miss the all-night FX veggie café in the Radost complex, which has a gallery upstairs and a nightclub downstairs. It's popular for Sunday brunch, served until 3pm, and they also have burritos, salads and similar snack meals.
No major east European city is complete without a Hare Krsna restaurant and Prague has two with the standard basic rice, dhal, savoury and two salads for a rock bottom price, or go for it with all-you-can-eat for only a little more. The central one at Soukenicka has lots of tourists and they speak English at both branches.
Bon voyage and happy scoffing!
---
Czech Your Veggies
I'm vegetarian Jsem vegetarian (male), Jsem vegetarianka (female)
I'm vegan Jsem vegán (m), Jsem vegánka (f)
I don't eat meat, chicken, fish Nejim maso, kurata, ryby
I don't eat eggs, milk, butter or cheese Nejim vejce, mléko, máslo a syry
Do you have any vegetarian dishes? Mate take nejaka vegetarianska jidla?
For more phrases see the Vegan Passport
---
Prague Vegetarian Restaurants - see Vegetarian Europe for detailed listings
Country Life Melantrichova 15, Tel 42-02 24 21 3366. Open: Mon-Thu 9am-3pm, 6pm-9.30pm; Fri 9am-7pm; Sun 11am-6pm; closed Sat. Metro: Mustek. Centrally located, vegan organic cafeteria style restaurant and wholefood shop just off the SW corner of the old town square Staromestske Nam. Shop open from 8am Mon-Fri. There is another branch of Country Life a few blocks south at Jungmannova 1.

FX Café Belehradska 120. Tel: 2425 4776. Open: 11.30am right thru till 04.00am next morning. Metro: I.P. Pavlova. Vegetarian café in the Radost complex. Typical price 70-160 kr. No smoking area.

Govinda's Soukenicka 27. Tel: 02-2481 6631. Open: Mon-Sat 11am-5.30pm, closed Sun. Metro: Nam. Republiky. Busy Hare Krishna restaurant close to Petrske Square plus a sweet shop with cakes and drinks.

Govinda's Na hrazi 5. Tel: 683 7226. Open: Mon-Fri midday-6pm, closed Sat-Sun. Another smaller, simpler branch further east, two blocks north of Metro Palmovka on Line B, by a small supermarket. 60 kr for a main meal.
Extracted exclusively for VegNews from Vegetarian Europe, £9.99 / US$16.95.

For what's on offer in 48 cities in 23 countries from Portugal to Russia, see Vegetarian Europe, edited by Alex Bourke. Available from www.vegetarianguides.co.uk.