Britain - Vegetarian Heaven
Vegetarian Guide Samples
Britain is the best country in Europe for vegetarians. Alex Bourke explains why.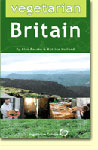 Samples From
Vegetarian Britain
Date: July 21, 2003
Author: Alex Bourke
Alex Bourke, founder of Vegetarian Guides, reveals an explosion of demand for vegetarian and vegan food in Britain and assesses the trends in eating out, ethnic dining and desserts.
In 1945 there were 100,000 vegetarians in Britain, all considered eccentric. By 1975 there were one million. Cranks restaurants served thick crust pasties and macrobiotic eateries required you to chew every worthy mouthful thirty times. At least that's how the world perceived us. As 1984 dawned, vegetarianism's most popular advocate was windy hippy Neil in The Young Ones TV series.
Just as we seemed doomed to lentil jokes for eternity, Linda McCartney and a funky new Vegetarian Society laid the bearded, beaded, spaced out New Age stereotype to rest. Suddenly we were cool and veggie celebs 'came out' in droves. Pizza, pasta and salad bars took over the high street. The veggie-lution stormed on through the nineties until today there are over four million of us. According to the Vegetarian Society, 250,000 take the plunge each year, but a new survey reveals that a hundred times as many are veggie at least two days a week. Now that I've got your attention, let's look at how and why.
British meat eaters consume a third less than the French and half as much as Americans. A survey in summer 2000 for the RSPCA revealed that only 38% of meat eaters eat it daily, 21% four or five times a week, 33% two or three times and 8% just once a week or less. In other words, an incredible 60% of people have become demi-vegetarian, a trend that is tremendously benefiting the best veggie restaurants. Country Life vegan restaurant in London surveyed their lunchtime customers and found that 70% are omnivores, proving that vegetarian is as much a mainstream cuisine in its own right as Indian.
Some vegetarian restaurants have been going out of business as customers drift off to non-veggie places that have started to copy veggie dishes. With even Burger King and McDonald's doing veggieburgers, is there still enough demand for vegetarian restaurants to survive in the ubiquiveg noughties? Oh yes, but only if they stay on the innovative leading edge.
Compiling Vegetarian London and Vegetarian Britain since 1994, it's clear that traditional cheese and egg cooking is losing ground to grain and bean based world cuisine. In ten years veggiedom expanded steadily from three to four million, but vegans have surged meteorically from 80,000 in 1993 to a quarter of a million in 2000 (RealEat survey). Every fourth group of four veggie diners now includes a vegan. Many veggies too are fed up to the back teeth with cheese toppings on every dish and are going for vegan food in droves. Far from limiting your choices by removing cheese and eggs, eating modern international vegan opens up the richest and most diverse cuisine of all, with hundreds of new ingredients, a riotously colourful, multi-textured, aromatic, herby-spicy, melt in your mouth fusion of African, south-east Asian, Japanese, Indian and middle Eastern dishes plus heaps of raw and steamed veg. The invention of vegan chocolate cake, apple pie, soya cream, ice-cream and custard means no more fuming over a boring sorbet or fruit salad while your mates tuck into something sinful. We've nobly tried them all and in this guide we tell you where they are.
If you want a taste of the future, there are legendary vegetarian restaurants throughout this book that attract regulars from all over Britain, setting the trail with ethnic and new vegan cuisine of quite astonishing breadth and deliciousness. Examples include Wild Ginger in Harrogate and Hitchcocks in Hull, Yorkshire; Black Bo's in Edinburgh; West 13th in Glasgow and countless more. To further whet your appetite for gastronomic galavanting, see Kat's Top 10 Restaurants in Britain.
If you're visiting London, the top gourmet vegetarian restaurants include The Gate in Hammersmith or Hampstead, and Manna by Primrose Hill, which are great for a de luxe, romantic dinner à deux with big menus and charming service. They have recently been joined by Plant in the West End. Diners flock from across the south to Riverside Vegetaria in Kingston-upon-Thames with its beautiful setting, eleven vegan main courses and seventeen desserts. London has twelve yummy new Chinese vegan restaurants, including Tai in Greek Street and Peking Palace in Holloway. For a bargain lunch or midnight refuelling, visit the new vegetarian falafel cafe Maoz in Old Compton Street.
Getting away is no longer a problem for us. Every month brings a new addition to the UK's 100 vegetarian guesthouses, many competing to serve the biggest and most extensive cooked breakfast. For example Hugh Wilson and Suzanne Allen's Edinburgh Greenhouse Guesthouse offers rashers, sausages, mushrooms, baked beans, hashbrowns, tomatoes, scrambled tofu, bagels with Tofutti cream cheese, croissants, pancakes with maple syrup, juices, cereals, fruit salad and vegan yoghurt.
What to do when there's nowhere veggie in town, or the veggie place is closed on Sunday night? Your best bet is to avoid British and American style places, especially if you're a vegan, and head for an Indian or Middle Eastern restaurant where as much as half the menu could be veggie. In cities with few or no veggie eateries, we've included ethnic places that local veggies and vegans have told us they love.
The number of veggies in Britain has increased forty fold in 55 years. Despite massive subsidies, the meat and dairy industries continue to decline and indeed pork, lamb and beef would collapse without state intervention. Whereas without any support, our kind of food is showing strong growth both in restaurants and retailers. This is just the beginning. One day I expect to see a vegetarian restaurant on every street, as in India. The future has never looked brighter, healthier, or more profitable for Britain's four million vegetarians, 400 vegetarian restaurants and guest houses, and the thousands of shops, supermarkets and eateries that have been extending their vegetarian range. Vegetarianism, and especially veganism, truly are the food of the future, and we will continue to direct you to the very best there is in the vegetarian paradise that is Britain.
For more on Vegetarian/Vegan Britain