Vegetarian Paris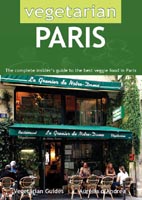 by Aurelia d'Andrea
What's inside: All the delicious details on dozens of hot new veg restaurants, as well as tried-and-true favorites that range from macrobiotic and Indian to Chinese and upscale French. Plus: Itineraries for hungry sightseers; an organic market guide; a compendium of veg cooking schools; a natural-wine primer; tasty tips for dairy-free chocolate lovers; accommodations directory, and much more. Paris never looked so good for herbivores!
"For people living in or visiting the capital, this book is more important
than the A-Z." -- The Vegetarian Society on Vegetarian London
Paris has long been known as the world's gourmet dining epicenter, but not until now has the French capital been able to claim the coveted "Veg-Friendly" bragging right. Vegetarian Paris, the most comprehensive guide of its kind, explores more than 150 delicious destinations throughout the city's 20 unique arrondissements and arms readers with the information they need to eat well and have fun on their French sojourn.
224 pages, full colour throughout, veggie maps of every arrondissement, over 200 entries including over 40 vegetarian and vegan restaurants. ISBN 978-1-902259-18-5. Published September 2014. Now in stock.
About the author Paris local and longtime vegan Aurelia d'Andrea has spent the better part of four years getting intimately acquainted with the City of Light's plant-based dining possibilities. Armed with a journalism degree and a hearty appetite, she's unearthed the best South Indian dosas, savory Vietnamese crepes, French mushroom patés, and buttery vegan croissants, and shares the details in this book on where to try them on your next trip to Paris. Interview Paris Q&A


Updates to this book (printable A4 pdf)
Buy the ebook in the itunes store for Mac, iPad and iPhone
iTunes USA US$9.99
Buy the ebook on amazon kindle. You can also download the first few chapters for free.
Amazon Australia
Amazon Brazil
Amazon Canada
Amazon France
Amazon Germany
Amazon India
Amazon Italy
Amazon Japan
Amazon Mexico
Amazon Netherlands
Amazon Spain
Amazon UK
Amazon USA
Where to buy in Paris
Un Monde Vegan vegan shop, 3rd arrondissement, 64 rue Notre Dame de Nazareth, 75003 Paris. Open M-Sa 10.00-20.00. Metro: Republique or Temple. Tel: 01 42 77 49 58.
Cafe Ginger vegan restaurant, 4th arrondissement, 9 rue Jacques Coeur, 75004 Paris. Open: Tu-Su 12.30-16.00; Sa-Su 19.00-22.00. Metro: Bastille. Tel: 01 42 72 43 83.
Le Centre Tout Naturellement vegan spa and cafe, 9th arrondissement, 83 bis rue La Fayette, 75009 Paris (near Gare du Nord). Open: M 11.00-20.00, Tu, Th 11.00-21.00, W 10.00-20.00, F 10.00-19.00, Sa 10.00-17.00, Su closed. Metro: Poissoniere. Tel: 01 42 85 70 58.
Gentle Gourmet vegan cafe-restaurant, 12th arrondissement, 24 boulevard de la Bastille, 75012 Paris. Open: W-Su 11.00-15.00, 18.30-23.00; M-Tu closed. Metro: Bastille. Tel: 01 43 43 48 49.
Shakespeare and Company English language bookshop, 5th arrondissement, 37 rue de la Bucherie, 75005 Paris. (opposite Notre Dame) Open: M-Su 10.00-23.00. Tel: 01 43 25 40 93.
Brentano's American bookshop, 2nd arrondissement, 37 avenue de l'Opera, 75002 Paris. Metro: Opera. Open: M-Sa 10.00-19.30, Su 13.00-19.00. Tel: 01 42 60 87 37.
WH Smith English bookshop, 1st arrondissement, 248 rue de Rivoli, 75001 Paris. (near the Louvre) Metro: Concorde. Open: M-Sa 9.00-19.00, Su 12.30-19.00. Tel: 01 44 77 88 99.
Gibert Jeune bookshop, English language Paris section, 5th arrondissement, ground floor, 30 boulevard St Michel, 75005 Paris. Metro: St Michel. Open: M-Sa 9.30-19.30, Su closed. Tel: 01 56 81 21 59.
Where to buy near Eurostar London
Hatchards St Pancras bookshop, Unit 1, St Pancras International station, Euston Road, London N1C 4QP. As you enter the station from Kings Cross underground or Euston Road, it is the first shop on the left. Open: M-Sa 07.30-21.00, Su 08.00-20.00. Tel: 020-7278 1238.
Watermark Books in Kings Cross station, on the St Pancras side at the back. Open M-Th 07.30-20.00, F 07.30-21.00, Sa-Su 08.00-20.00. Tel: 020 7713 7903.
Vx vegan shop 73 Caledonian Road, London N1 9BT. Five minutes walk from Kings Cross/St Pancras. Open Tu-Su 10.00-18.30, M 11.00-19.30. They also sell vegan snacks, sandwiches, cake, shoes, clothes and the Vegan Passport. Tel: 020-7833 2315.
You can order from any bookshop in France, UK, USA or Canada.
In Netherlands buy from Vega Life vegan shop, Amsterdam.
UK bookshops can order from Gardners or Bertrams distributors.
Bookshop Information Sheet (pdf)
French, Belgian and Swiss bookshops can order from Pollen Diffusion
Les libraires en France, Belgique et Suisse peuvent commander de Pollen Diffusion
Infos pour les libraires (en francais, pdf)
USA/Canada bookshops can order from Book Publishing Company, TN.