Vegetarian Paris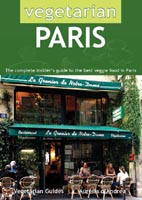 by Aurelia d'Andrea
What's inside: All the delicious details on dozens of hot new veg restaurants, as well as tried-and-true favorites that range from macrobiotic and Indian to Chinese and upscale French. Plus: Itineraries for hungry sightseers; an organic market guide; a compendium of veg cooking schools; a natural-wine primer; tasty tips for dairy-free chocolate lovers; accommodations directory, and much more. Paris never looked so good for herbivores!
"For people living in or visiting the capital, this book is more important
than the A-Z." -- The Vegetarian Society on Vegetarian London
Paris has long been known as the world's gourmet dining epicenter, but not until now has the French capital been able to claim the coveted "Veg-Friendly" bragging right. Vegetarian Paris, the most comprehensive guide of its kind, explores more than 150 delicious destinations throughout the city's 20 unique arrondissements and arms readers with the information they need to eat well and have fun on their French sojourn.
About the author Paris local and longtime vegan Aurelia d'Andrea has spent the better part of four years getting intimately acquainted with the City of Light's plant-based dining possibilities. Armed with a journalism degree and a hearty appetite, she's unearthed the best South Indian dosas, savory Vietnamese crepes, French mushroom patés, and buttery vegan croissants, and shares the details in this book on where to try them on your next trip to Paris. Interview

224 pages, full colour throughout, veggie maps of every arrondissement, over 200 entries including over 45 vegetarian and vegan restaurants. ISBN 978-1-902259-18-5. Now in stock.
Updates to this book (printable A4 pdf)
What Readers Say
Your book saved us! We used it every day we were in Paris, and found markets and all kinds of fantastic cafes and restaurants. After previous visits feeling lost, this was amazing! Thank you!
Jess and Toby Litherland
Vegetarian Paris is a wonderful book: I took my two sons in October and we had some wonderful vegan meals. I felt so safe knowing I had the book with me! It also meant we saw a lot of Paris that was off the main tourist trails.
Teresa Fox, Colchester
Just wanted to thank you for sending my copy of Vegetarian Paris so promptly. It looks a fabulous book. My student daughter and I visited Paris a couple of years ago and we managed OK with the food (we're both vegetarian) but we're really looking forward to sampling a whole lot more foodie delights when we return this summer.
Penny Briggs
This compact book is the perfect guide for vegan travellers. It contains maps, shopping information, event listings, restaurants and cafes, transport information, accommodation tips and even a handy basic language and phrase guide. The book is small enough to be taken out for a day of sightseeing and packed with enough useful information to make you glad you did.
Sean O'Callaghan (aka Fat Gay Vegan)
Amazed at how much information is packed into a pocket-sized book. It is very clearly laid out, has clear print, clear maps and excellent photos. In fact it is not merely a list of veggie and veggie-friendly restaurants but contains a whole stack of practical information such as affordable accommodation, cookery classes, a language guide, events, organizations and recommendations for (super)markets, wine, bike hire, car-share .....
I thought I was pretty clued up on Paris for veggies but this book is a revelation.
Patricia Tricker
Buy the 220-pages Vegetarian Paris colour ebook in the itunes store for Mac, iPad and iPhone
iTunes USA US$9.99
Buy the 220-pages Vegetarian Paris colour ebook for kindle, pc, tablets and Android
You can download the first 50 pages free. Click on Send a free sample (under the Buy button) and select which of your devices to send it to.
Amazon Australia
Amazon Brazil
Amazon Canada
Amazon France
Amazon Germany
Amazon India
Amazon Italy
Amazon Japan
Amazon Mexico
Amazon Netherlands
Amazon Spain
Amazon UK
Amazon USA
Where to buy near Eurostar London
Hatchards St Pancras bookshop, Unit 1, St Pancras International station, Euston Road, London N1C 4QP. As you enter the station from Kings Cross underground or Euston Road, it is the first shop on the left. Open: M-Sa 07.30-21.00, Su 08.00-20.00. Tel: 020-7278 1238.
You can order from any bookshop in France, UK, USA or Canada.
UK bookshops can order from Gardners
Bookshop Information Sheet (pdf)
French, Belgian and Swiss bookshops can order from Pollen Diffusion
Les libraires en France, Belgique et Suisse peuvent commander de Pollen Diffusion
Infos pour les libraires (en francais, pdf)