Vegan London complete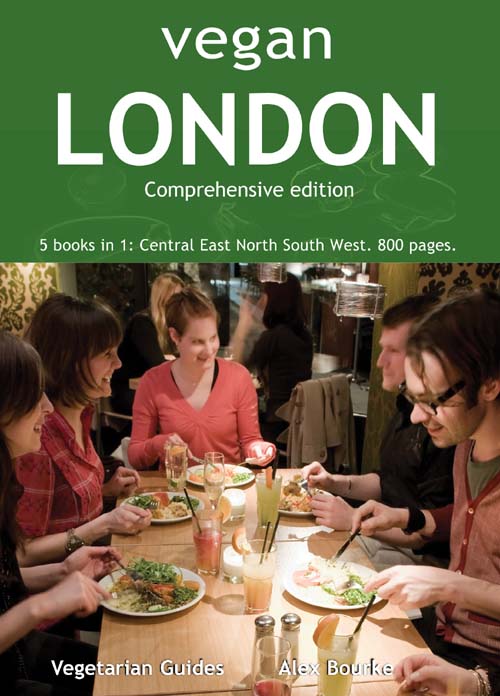 edited by Alex Bourke
5 books in 1: Central East North South West.
800 pages.
260 vegan restaurants, cafes, take-aways and market/street stalls.
Plus 200 vegetarian and 400 omnivorous places with great vegan options.
Get ready to eat out again with your friends as lockdown ends.
This seventh edition is the first in full colour. Many entries have been expanded to a full page or double page with colour photos.
Colour-coded maps highlight vegan (pink), vegetarian (green), omnivorous (blue) and shops (orange).
Detailed reviews with sample dishes, prices, opening times, nearest tube station.
If you are vegan, veggie, moving that way, or have one in the family, this guide shows you fabulous food all across London. Includes vegan markets, cake shops, ice cream parlours, vegan fried chick'n shops, and all-you-can-eat buffF.95ets. Over 1,000 places to get vegan food.
Colour maps of central London areas: Soho, Covent Garden, Bloomsbury, Euston, Fitzrovia, Marylebone, the City, South Bank, plus vegan hotspots Camden, Clapham, Hammersmith, Islington, Kings Cross, Shoreditch and Brick Lane, Stoke Newington, Wembley and Bethnal Green.
Bonus chapters on top areas to explore, cheap days out, getting around with Oyster Card, accommodation, alcoholic drinks, eating out with your dog, festivals, going vegan, health practitioners, local vegan groups, vegan pet food, shoes and clothing.
800 pages full colour throughout, photos, maps.
ISBN 978-1-902259-20-8. Publication January 2020.
Available here and from any UK bookshop. Cover price £14.95.
Special offer price £9.95.
This book combines our five other vegan London guidebooks, all rechecked and thoroughly updated.
Vegan Central London
Vegan East London
Vegan South London
Vegan North London
Vegan West London
Buy now!

800 pages, £9.95