Vegan Central London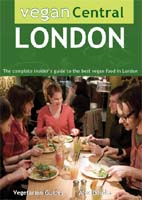 edited by Alex Bourke
Over 200 places to get vegan food all over central London.
Whether you are vegan, vegetarian, reducetarian, or married to or dating one, this guide leads you straight to the best vegan food all over central London.
70 completely vegan or vegetarian restaurants, cafes, take-aways and market stalls.
115 more restaurants with great vegan food, useful when you are in a group of non-veg*ns.
50 wholefood stores, many with take-away sections.
Colour coded maps make it easy to locate veg*n, omnivorous, shops and tourist attractions. No need to consult your phone or carry an A-Z.
Detailed reviews include address, nearest underground stations, opening times, sample vegan dishes with prices, website, colour photos.
Covers all of central London from Hyde Park (west) to Liverpool Street (east), from Euston Road (north) to the South Bank of the Thames. Individual chapters on Soho, Bloomsbury, Covent Garden, Euston, Fitzrovia, Marylebone, Mayfair, South Bank, The City.
144 pages, pocket or handbag size 168mm (6.6") x 121mm (4.75"), full colour throughout, photos, maps. ISBN 978-1-902259-14-7.
Also available
Vegan East London
Vegan North London
Vegan South London
Vegan West London
Vegan London comprehensive edition - all 5 books in one