NEW The (all day) Breakfast Scoffer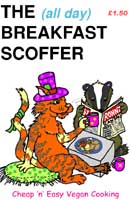 Cheap and easy vegan recipes by Ronny Worsey
Cheap 'n' easy vegan cooking by one of Britain's most experienced vegan caterers and breakfast inventors. If you are bored with beans on toast or embarrassed about feeding it to sleepover guests, you will love this hilarious 20 page laminated and illustrated booklet packed with fantastic breakfasts, savoury and snack recipes. Includes Pancakes, Full-on Fry Up (eggy style bread, posh fried tomatoes, satisfying sosages, rashers, scrambled tofu, potato cakes), Posh wheat-free sosages, Derbyshire oatcakes, Yoghurt that thinks it's cheesecake, Chocolate fudge cake, Liquid breakfasts (apple crumble smoothie, breakfast smoothie, power smoothie, strawberry and melon smoothie, raspberry zinger, pink paradise, oaty orange, rhubard fool), Geek pizza crumpets, Date and rosemary bread, Aberdeen rowie croissants, Top 10 tasty toast toppings, Chicken-style tofu breakfast bagel, Scottish style porridge, Make your own muesli and save a fortune, Petits pains au chocolat (chocolate croissants).

Mornings, or whatever time you roll out of bed, have never been such fun! Now available.
Available Online

Only £1.50

Still Not Convinced?