Vegetarian East of England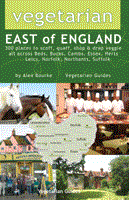 edited by Alex Bourke
300 places to eat, sleep and shop vegetarian. Covers Bedfordshire, Buckinghamshire, Cambridgeshire, Essex, Hertfordshire, Leicestershire, Norfolk, Northamptonshire, Suffolk, with big sections on Cambridge, Leicester, Milton Keynes, Norwich. Detailed listings include prices, opening times, sample dishes, website, child and dog-friendliness.
Vegetarian, vegan and veggie-friendly hotels, guest houses, hostels, self-catering, camping. 40 totally vegetarian restaurants and cafes. 90 more cafes and ethnic restaurants with big vegetarian menus. A dozen pubs specialising in veggie and vegan food. 160 local wholefood stores, with full details of what each of the 79 independents specialise in. Caterers, local groups. Includes map of the region and four indexes (vegetarian, A-Z, locations, caterers). 96 pages, photos.
SOLD OUT. A new edition is in preparation. Please email us if you would like to be informed when it becomes available.